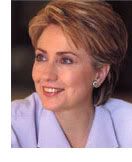 Has Senator Clinton lost her bloody mind?

Yesterday, while campaigning in New Hampshire, Senator Clinton did something that I thought only despicable and cynical Republicans did. She suggested that this country would be somehow more likely to be attacked by Islamic terrorists if Barrack Obama were elected President.

Senator Clinton, after having a weepy moment at an earlier campaign stop, took a stab at Senator Obama, who is the apparent front-runner, by suggesting that "I don't think it was an accident that Al Qaeda decided to test the new Prime Minister, immediately. They watch our elections... you are hiring a President to be there when the chips are down"

Pretty sad, Senator. It's only the second state and you are down to this. I'm not sure if you will win in New Hampshire or not, but I'll tell you this: You have given me another reason not to vote for you. I won't vote for you because you can't take pressure. There are 301 days left until the Presidential election, and you are cracking up already?

Great. I'm sure that you will be the scourge of evildoers everywhere. I am equally sure that they will all take you seriously as you issue dire threats with a quavering voice, wringing your hands.

I thought you said that you would be "ready on day one"... I'm not seeing it.

On the upside, your attack must really feel good for Dick Cheney and Karl Rove, whose playbook you must have stolen this attack from.

Shame on you. It isn't bad enough that you voted for the war. It isn't bad enough that you thought the "Patriot" Act was a good thing. You actually have the nerve to invoke the fear card.

You are despicable, ma'am. .. and you don't deserve ANY votes, let alone the nomination.

As I have said before, I have been and continue to be active in Democratic politics where I live, but I wouldn't vote for your for any reason. We already have had enough of Republicans.