I wrote this on Sunday night, while I was cooking...

It's been a while since we talked about food, hasn't it? Well, let's see if we can fix that!

The winter is upon us, and despite today's temperatures in the middle to high 50's I decided that today would be a good day for soup. Not just any soup, mind you, but a variation on one of my favorites: Leek & Potato soup. Oh, I can hear you, already, sighing a soft "Mmmmmmm!" OK, so maybe that was me. In any event, I think you'll like this.

Lets start, shall we?

The first thing you have to do if you want to make Leek & Potato soup, is to get the ingredients, which are rather simple:

4 Leeks - Try to get them as fresh as possible. Sometimes you get to the supermarket and see the most atrocious leeks on the planet. Geesh.

Celery - about 4 stalks, trimmed and sliced

Fennel - One bulb

Bacon bits - one jar (use real bacon bits if you don't have dietary restrictions)

Half a pint of heavy cream (substitute with regular, or low fat milk, as suits your fancy)

Chicken or vegetable broth - This time I used some organic low-fat low-sodium stuff that I got at Whole Foods this afternoon (Washingtonians, have you been to the new whole foods store in Old Town? The Bomb, I'm telling you.)

Chopped garlic - It's alright if you use the stuff in the jar… I'm not Emeril, OK?

Right, got all of your stuff?

Let's roll!


Put on some music: Today I am starting with the Manhattan Transfer. I have loved them for years and years.

Next: Pour a glass of wine. Pour one for your sweetie, too.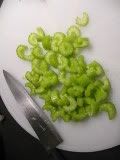 Now, let's get busy (awwwwwwwwwwwww yeah!). First, wash and trim your celery, then chop, rinse again and set aside.


Trim the stalks and the very bottom of the bulb from the fennel, and chop roughly. Set aside.


Trim the tops and bottoms of the leeks and slice thinly.

Place the chopped leeks in a large colander and rinse thoroughly. Trust me on this. If you don't rinse THOROUGHLY, you are in for a lovely, but REALLY gritty soup, and that's probably not what you want.

OK, enough with the chopping and the rinsing, already!

Go into your pots and pans and find a cast iron dutch oven. If you don't have a cast iron dutch oven, smack yourself on the forehead.

I'll wait.

Done? OK, get your cast iron dutch oven, or whatever you plan to use, and put it on the stove.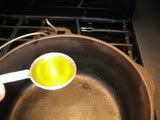 Turn the flame to high and pour in a tablespoon of extra virgin olive oil, (if you say EVOO, you'll really irritate me… so don't). Anyway, once you put in your olive oil, add the leeks, fennel, and bacon bits (use as much or as little of those as you like), stir and reduce the heat to medium-low. Cover and let cook until wilted, stirring as needed.

Add garlic, stir. Cook for 3 or 4 more minutes.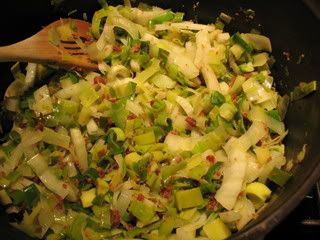 Add broth. Enough to cover, with some reserved. I used a 32 oz. box.

Reduce heat to a low simmer.

Rinse and dice your potatoes.

Pour a second glass of wine.

Add potatoes to the pot, and stir. Make sure there is enough broth to cover the potatoes as well, if there isn't enough, add more.

Check and make sure that you are simmering on low… we aren't in a hurry here.

Answer the ringing telephone and talk to your mother in law, for as little time as possible, and then put adorable grandchild on the phone.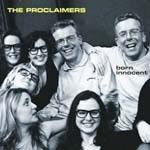 Change the CD. This time playing The Proclaimers - Born Innocent.

***NOTE*** I still believe that The Proclaimers should have had better success here in America. Those guys rock!

OK, you have some time. You need to simmer until your potatoes are done. 10 or 15 minutes, or something like that.

Take a few minutes to pontificate about matters of great import, like what you are planning to read for the official "bloggers day off for reading".

Whaddayamean, you "haven't heard of it"?

Have you been reading my blog? Look to your right. No, not over your right shoulder… the right side of this blog. You see the widgets, right?

Let me explain this. On January 10th, we bloggers, especially those the know Soccer Mom In Denial, our esteemed colleague, known respectfully and affectionately in the blogosphere as SMID, aren't going to blog. That's right, no blogging, no reading of blogs, no exciting food posts, no book reviews, no Thursday Thirteen. Nada. Why? Because we'll be reading books. Not only will we be reading, we will read, AND talk about books with loved ones, children, colleagues, friends, and if you are really hardcore, you will find a perfect stranger and engage them in a conversation about a great book.

I have blogged about the day here, and you can find more information at SMID's blog.

Do this… and pass it on to your friends.

Read, encourage others, especially at risk youth. Maybe your encouragement will keep a young person out of prison or a dead end future.

It's vital.


As for me, I will be reading this: The Revolution: A Field Manual For Changing YOUR World (emphasis mine). This book is a collection of essays about ways to fight against 12 pressing social justice issues on local and international levels.

Look for my review, soon to follow.


OK, still with me? Good! Hey, that was good, wasn't it? A post within a post! I'm a bad MoFo!

OK, when your potatoes are done, get out your food processor. If you don't have one, use your blender. Now, you don't need one of those really expensive kitchen blenders to do this (I REALLY want one of those things. Well, maybe in the next life).

Use a slotted spoon or a skimmer to remove the potatoes (and the majority of the cooked down veg. as well), and process until smooth. Feel free to do this in batches.

Once you have done all of the potatoes and veg, you are nearly done.

Return all of it to the dutch oven…. And add a little broth if the soup is too thick.

Adjust your seasonings. This is the time to get creative friends. The soup that we just made is either perfect on it's own, or is the perfect host for doing any number of really great things.

Here in Castle Gunfighter, we enjoy a lively spice rack, and I rarely shrink from using it… which is why I can really come up with some great stuff that I can hardly reproduce, because sometimes I just start throwing things into the pot. Well today is no different.

At this point, I had added a little salt, a little more garlic, and some Garam Masala, as well as a dash or three of premium fish sauce.

***NOTE*** I have changed the CD yet again, and now I am listening to Linda Ronstadt sing Blue Bayou, which came out when I was in seventh or eighth grade.

C'mon, sing with me! "Oh some sweet day, gonna take away this hurtin' inside, well I'd never be blue, my dreams'd come true… on Bluuuuuuue Baaaaaaaayooooooou!"

Dude.

Back to adjusting seasonings. Use what you like. You can even add a bit of cheese. I used about a half a cup of cheddar cheese, and some heavy cream, as well as some kitchen bouquet, because my bride prefers her food to be not quite so light colored.

Ok. I'm done!

I am going to change the CD (Teddy Pendergrass, this time) and eat!

Bye, y'all.