On November 10th last year, I wrote about the
Marine Corps Birthday
, and the October '06 combat death of several young Marines from the 1st battalion, 6th Marine regiment. One of the Marines that I listed in that post was
Corporal Nicholas Manoukian
, age 22.
A couple of weeks later, I was contacted by a woman named Mary, who had read the post. As it turns out, Mary was Corporal Manoukian's mother. Mary and I have emailed back and forth several times over the last year, and in her emails, she told me about her son... her only child. In our most recent correspondence, I told her that, with her permission, I was going to write about her son again, on the anniversary of his death. She graciously said yes, and provided me with some facts about her son's life and some pictures.
When Mary emailed me the first time, I promised her that I would never forget her son, and that I would keep him, and Mary, too, in my prayers, and I have. So, if you will permit me, I am going to tell you a little bit about who Nicholas Manoukian was. It is my hope that in some small way, I can help keep Nicholas' memory alive.
Mary told me the details of her son's enlistment, and of some apparent deception by Nicholas' recruiter who promised that her son wouldn't have to serve in combat. I can't speak to that issue, but it hurts me more than I can tell you that my Corps now has to resort to subterfuge to gain new members. In my day, the Corps turned away more than half of the people who tried to enlist.
Please read on, I want to tell you a little bit about this good young man.
Nick was born on August 31st, 1984, and was adopted at one year of age by Mary and Isaac Manoukian, of Lathrup Village, Michigan. Nick was the light of his parent's eyes. The Manoukians were a close family, and Nick and Mary drew closer still when Isaac died when Nick was 12 years old.
When Nick was 14 and in Junior High School he met a girl named Danielle. By the time Nick was 15, he and Danielle were an item. Although they would drift apart, later, their meeting would be very important to them later in life.
Nick was interested in many things, including playing the drums, writing poetry, hockey, snowboarding, art and cooking. Nick was also, by all reports, a great hugger! When Nick would see his mother, he would give her big, rib-crushing hugs.
Nick Graduated from Royal Oak Kimball High School, in 2003, and spent some time in college studying art before he joined the Marine Corps in 2004, sometime in this period, he and Danielle rekindled their relationship.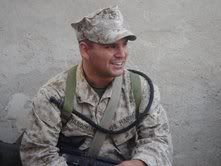 Corporal Manoukian deployed to Iraq the first time in March of 2005, and was involved in the second Battle of Fallujah.
Nick survived this deployment, but his unit, the first battalion, 6th Marine regiment was slated to deploy to Iraq again in September of 2006.
Before going back to Iraq, Nicholas had some things to do, so in July of 2006, he went back to Michigan on leave and married Danielle! After a too-short period, Nicholas was back with his unit, which deployed to Anbar province in September of 2006.
Manoukian had only been back in Iraq for a month when he was killed. His Humvee was stuck by a roadside bomb, while his unit was conducting combat operations.
Nicholas left behind a loving family: His mother, Mary Manoukian Calhoun, stepfather Gary Calhoun, his wife, Danielle Manoukin and stepson Nico Mullen.
Today, it has been a year since Nicholas' death, and his family still grieves. I won't talk about noble sacrifice and patriotism here, today... just about one man and his family... a family misses their son, husband, and father.
Take a moment to grieve with them.
GF