A little over a year ago, while strolling around World Showcase Lagoon, at Disney World's EPCOT, a friend of mine told me about his method of stuffing a tenderloin. If you like to cook, you probably know that stuffing a pork tenderloin is sort of demanding, especially if your skills with cutlery aren't what they should be. My friend gave me an idea that until recently, I hadn't put into practice... I decided that it was time to make it happen.

Pre-heat the oven to 375.


The first thing I did was to put on some music, because you know that Chef Gunfighter likes to get his groove on when he cooks. Yes, what you see is correct, I bought that 70's R&B collection from Target. Don't laugh, the play list is very cool. It starts with that all-time favorite song, made for rubbing bellybuttons, the Marvin Gaye classic: "Let's Get it On".





Anyway, I was going to use a mushroom stuffing for this tenderloin, and got started by chopping a bunch of chives and setting them aside.





Next, I chopped a small onion, and a package of fresh, white button mushroom. I sauteed the onions until they were clear, then added the chives and mushrooms.

Continue to saute together until the mushrooms release their liquids, and reduce by about 80%, add a dash of minced garlic here (if you like garlic), and a half teaspoon of ground caraway seeds. Salt & pepper to taste.

Once finished add a tablespoon if bacon bits (use real bacon). Stir, drain well, and set aside in a mixing bowl. Add a tablespoon (or two) of high quality mustard, (I used the full-grain brown mustard).




I have a small family, so using a large tenderloin is seriously wasteful, so instead, I used a rather small (and therefore inexpensive), pre-trimmed, tenderloin from the supermarket for this dish.

OK, knives out! Lay the tenderloin on the cutting board, and using your free hand press down at the end of the tenderloin where you are going to begin your cut. Holding your knife flat, cut a flap in the tenderloin like you see here.


Next, make another cut, similar to the first, which will leave you with two flaps that open from the center like wings.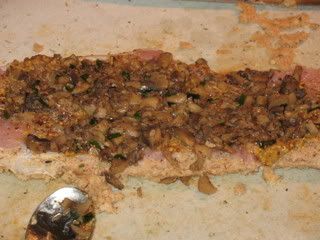 Spread the stuffing on the center portion.....









...and then close the flap.

Repeat until you are finished.








Pause here to wash your hands, which will be a real mess by now. Pour yourself a glass of red wine. You know, the kind that I like, cheap... usually from a bottle with a screw top. Hey, I'm a Philistine... sue me.

OK, take a minute or two to do some dancing. If you have a partner, great! If you don't have anyone to dance with, dance alone!. Remember what I said about getting down with your bad self, it's important!

OK, calm down, have a last sip of your wine, and put your tenderloin in the oven... bake at 375 for until finished... you'll need a meat thermometer to determine doneness, because different sized cuts of meat require different cooking times.

When you are finished, it'll look something like this: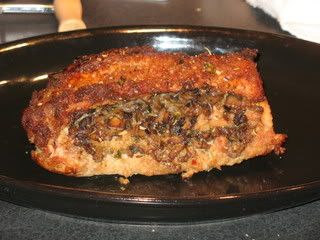 Put on some good music (I recommend Andrea Boccelli), and serve with pasta & veg.... and more wine.

GF