Have you had enough saber-rattling yet?

I have.

With all of the talk flying left and right, you would have to conclude that either Iran is the most dire threat to world peace, and the security of the United States, or that an American invasion of Iran is in the works, and isn't far off.

Both of those assertions are wrong.


Those on the right... you know, the clods that get their news from FOX, believe that Iran poses a grave threat to the United States and we need to decisively "do something" about it. The leaders of this particular lunatic fringe are none other that idiot-in-chief, George W. "Mission Accomplished" Bush...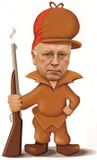 ... and Dick "I'll shoot you in the f***ing face" Cheney. Many of the people that come down on the "Iran is a major threat" side argue that military might is the way to go to keep Iran it it's place.






On the other side of the argument, you have peaceniks who believe that talking out your problems will ease and soothe all parties, and if we talk long enough, everything will be fine, and everyone can burn patchouli incense and drink girly coffee drinks together in peace. This fringe element gets their news from the Whole Earth Catalogue, and from the crystals around their necks... they don't have a leader, because herd animals seldom have a central figure.



At the center of all of this, is this drivel-spouting dope, Iran's pain-in-the-ass-figurehead-of-a-President Mahmoud Ahmadinejad.

President Ahmadinejad has said that it wants to develop nuclear power for peaceful means. Uh-huh. You know? I might be crazy for saying this, but I just don't believe it. Why don't I?, because we say the same thing here in the U.S., and when you get right down to it, having the ability to make nuclear weapons means that you'll make them.

So where does all of this lead us? It leads to this: As much as we'd like to do about keeping Iran from going nuclear, there isn't really much we CAN do about it.

Militarily, we can't invade Iran. Our Army is busted and needs to be rested, the Marine Corps is ready to fight (of course), but is too small to make it happen with success. In short, my friends, as with all strategy, it's about the math. The numbers can't be crunched to come up with a successful plan for an invasion, so that's out.

The only viable military action is an air campaign to destroy the suspected locations of Iranian nuclear sites. Would those strikes be successful? Given our aviation capabilities, I am certain that it would.

So "what's the problem?"

The problem is the issue of unintended consequences and a potential disaster for the United States. Iran is a big country, and isn't really all that weak, when compared to it's neighbors. Do you really think that an aggrieved and belligerent Iran will be good for the region?, especially at a time when we would have difficulty challenging a major thrust at one of their neighbors?

Well, since the nuclear genie is one that is likely to find it's way into Iranian hands, the United States needs to be thinking smarter. We are going to need to guarantee the security of Iran. Promise to not invade their country and not to seek "regime change", blah blah blah.

In return, the Iranians get this: "If you even think about getting stupid outside of your borders, we'll incinerate you."
I really don't see what else there is to do.

I don't believe that a theocratic nation like Iran will sit down and talk in good faith. We can't believe their protestations about peace etc... so we either drop bombs on their heads with some potentially worse-than-Iran-with-nuclear-weapons scenario developing into a regional war, or we flat out threaten them into good behavior.

None of the answers are good, but that's where we are.