I was going to review a book today, but it will have to wait. Today, I want to talk about the recent visit of the President of Iran,
Mahmoud Ahmadinejad
, to Columbia University.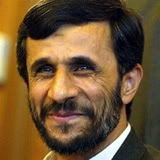 President Ahmadinejad was invited by the university to speak at it's world leaders forum, which is quite prestigious. The invitation itself, to the leader of a country is an enemy of the United States, kicked up no small storm of controversy. Being a bit of a rule breaker myself, I was of two minds about this invitation. In the first instance , I thought that it might not be a bad idea to hear this jackass first hand and see what he had to say, the second was that the President of Columbia University must be smoking some really good (and oh so illegal) dope to think that this was a good idea.
It turns out that I'm a REALLY smart guy... I was right on both counts. I listened to the speech on C-Span while I was heading home from work yesterday, and was amazed and appalled by what I heard.
At the outset, Columbia's president, Lee Bollinger, came across as exceptionally hostile when he introduced Ahmaddinejad. One of the first things Bollinger said in his remarks was that Ahmadinejad exhibited
"...all the signs of a petty and cruel dictator."
Bollinger went on to vocally scourge Ahamadinejad for the number of people, including children, that are executed in Iran on an annual basis, and for being a Holocaust denier, and for providing weapons to insurgents and foreign fighters in Iraq, and for many other outrages. While I happen to agree with Bollinger on all of those points, I have to wonder why he was making them now. He certainly should have thought about this before he decided to supply this dirtbag with a prestigious pulpit, here in the United States, from which to spout his drivel, thereby giving it some degree of legitimacy. As much as it pains me to do so, I suspect that Ahmadinejad was right when he began his remarks that Bollinger was probably being so insulting because of all of the flack that he and the university were taking for having made the invitation in the first place.
Well, Mr Bollinger was certainly correct when he first described Ahamadinejad as a cruel dictator. He was certainly correct when he decried that number of executions in Iran... especially of children, and he was certainly correct when he criticized Ahmadinejad's record when it comes to freedom of speech. Having said all of that, I must say that Bollinger's tone, throughout was one of hostility and and insult. I don't have a real problem with hostility, but I certainly wouldn't invite you or anyone else to my home and then as soon as you sat at our table, start to insult and berate you, no matter how I thought about your past deeds. If I was that deeply opposed to you and the things that you had done in your life, or that you were still doing, I certainly wouldn't have invited you.
As for Ahmadinejad's speech... Mr Ahmadinejad has given his detractors, world-wide, enough ammunition for years. His rambling, pseudo-intellectual speech, which took a long time without really saying anything, was just more proof of his being someone to watch closely. This guy has all of the faux-pious, snake-oil salesman charm of Osama Bin Laden and George W. Bush wrapped up in one. His enmity with the United States and the other western nations is clear. He speaks and reasons like a terrorist, justifying the unjustifiable with half-denials, and distractions delivered smoothly in the tone of a child who shouts
"yeah, but what about..."
when he knows he has been busted by his parents for something.
Columbia University claims that they invited Ahmadinejad in the spirit of free speech, which just goes to show you that the principle, if not always the practice, is still alive in America. Good for them.
Columbia university President Bollinger proved a poor host, by using insults and hostility, no matter how heartfelt, as a prophylactic against any damage taken by the media. Shame on you for being so weak.
The American people, those who cared to listen, anyway, got to see first hand, the face of one of the most dangerous peole on the world stage today. I hope we have the good sense to be concerned about it.
President Mahmoud Ahmadinejad gurantees the enmity of Iran and the United States for at least another generation. The losers here are his own people, but peole like him don't really care about the people, do they?