The day has finally come!
Today is the first day of the
2007 Rugby World Cup!
At 2 P.M. (in the eastern United States) the Rugby World Cup (RWC) will begin with the opening match between France and Argentina, at
Le Stade De France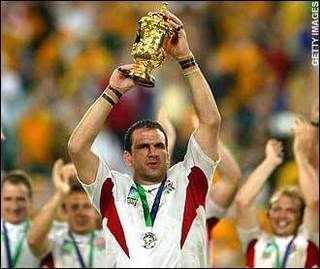 In the 2003 RWC, England were crowned champions, defeating Australia due to a last minute
drop-goal
by the hero of the hour,
Jonny Wilkinson
.
Unfortunately, England has suffered through a rough patch over the past couple of years, and aren't expected to make it to the finals. They have lost the leadership of then-Captain Martin Johnson (pictured with the
William Webb Ellis cup
), and Jonny Wilkinson's kicking ability.
For the opener, France appears to be the favorite, but appearances can be deceiving. This will be a very physical match, and may contain some surprises. Look for veteran Number Eight,
Sebastien Chabal
, to come off of the bench as an impact player in the second half to smash the opposition, should fortunes turn against the French.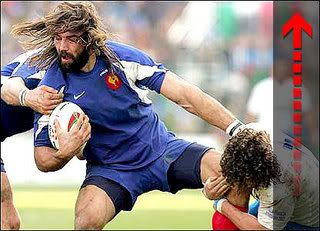 Sebastien Chabal is an incredibly physical player, and is dangerous not only in defense, but has the ability to create scoring opportunities for himself and his teammates. He has the ability to change the outcome of a game. Watch for his bruising running ability and his crushing tackles.
Addtionally don't discount the contributions of the French Captain Raphael Ibanez, and returning French Great Fabien Pelous. The French have depth, and they won't be afraid to use it against Argentina this afternoon.
For their part, the Pumas are no sluches. Although France will likely win this match, there are no gurantees. A strong Argentine showing coud very well conclude with a win.
It won't surprise anyone who is a rugby fan to hear that New Zealand are favored to win the championship, but, expectaions dont always end up coming true. Australia, South Africa, France, and Ireland all have the depth of high-level players to emerge victorius. Having said that, I am still supporting New Zealand in their efforts.
Look for
Dan Carter
to score an unholy number of points with his ability to score drop-goals and penalty goals from long distance at nearly any point on the field. Carter is also a dangerous runner. fast and agile, he is one of the leading point scorers in international rugby, and was recently hailed as the
International Rugby Board's Player of the year.
New Zealand has a deep team full of fast, strong, and tough players, who all play in the world's best professional tournaments, the
Super-14
, the
Air New Zealand Cup
, and the southern hemisphere
Tri-Nations
.
They will be tough to beat.
Australia has had some depletions over the past couple of years, but that doesn't mean that the Wallabies are out of the running. Expect Veteran George Gregan to have an impact. Gregan, the former Captain of the Wallabies, is one of the most experienced players in the worild in terms of international rugby. This will be Gregan's last Rugby World Cup, as he will be playing in Europe next year.
Expect to see the Aussies advance at least to the quarter finals.
I would be remiss if I didn't mention South Africa... and if I mention South Africa, I would be shamefully remiss if I didn't include this young man:
Bryan Habana
. The south Africans are in good form this year, and will be real players in this years RWC. Look for hard-playing
Schalk Burger
,
Victor Matfield
, and
Percy Montgomery
, among others to be a major playmakers.
Habana is a whole other story. He is widely believed to be the fastest winger in international rugby. If Habana gets his hands on the ball, and has a reasonably clear path to the try-line, stopping him will be nearly impossible
OK, enough about the RWC... your eyes are already glazing over... but I am here to tell you, my friends, that the next week or so are going to be big fun for yours truly.
Wait. What's that? What about the United States team review? Well, ok, here you go: Our boys don't have a snowball's chance in hell of winning the RWC. Which doesn't mean that I won't be cheering for them mightily when they play their first pool match against England on Sunday. Look for leadership from Captain
Mike Hercus
, who, incidentally, is a local boy... of sorts. He was born about 10 miles from here, in Falls Church, Virginia, before moving back to his parent's native Australia, where he was schooled.