I had planned to start this series a few weeks ago, but life had other plans. So here we are.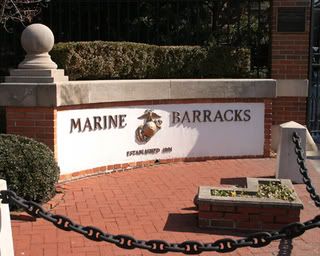 This series of posts will be about places that have either meant a lot to me, or I have at least found interesting enough to tell a story about during my now-twenty one years in the Washington, DC area.
I have been here since May of 1986, when I was assigned to the
Marine Barracks
located at 8th & I streets, Southeast, in Washington, DC. The Day I arrived in DC was an important one, as it has shaped the rest of my life.
After being assigned to DC and learning to love the place, I put down roots here and decided to stay here after my second enlistment was up (I had plan to make a career of the Marine Corps, but coming to DC spoiled me).
After the end of my first marriage, I lived in a few different places until I ended up here, on A street, southeast. I lived in a rather small apartment in this building, but my memories of this time are very happy, on the whole. While I lived here... I call it my time in the wilderness, I learned a little more about the grown-up me... I also learned to find joy in a spartan environment (no lie, my kitchen was smaller than the closet in our current walk-in closet.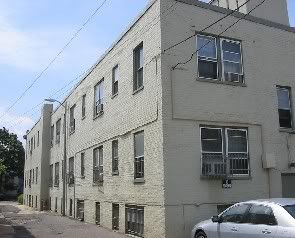 Seen from the rear of the building, in this picture, my apartment was on the top floor on the corner. Yeah... pretty small, but since the building was under rent-control, I was only paying
$600 a month!
It was in a great neighborhood, that had an incredible amount of police protection
(there were lots of members of Congress in the neighborhood)
.
You know what one of the other great things was about that apartment? It had really, really hot water, and incredible water pressure! Now, as a suburbanite who lives in an area where homes are being built, I have become used to less than thrilling water pressure, but after showering in my old apartment, your skin would actually tingle!
The other great thing about is something that I already mentioned. The neighborhood. The neighborhood was only 4 blocks from the main
Library of Congress
building, 5 blocks from the great Capitol Hill pubs that I used to haunt, like the
Hawk n Dove
, or
Tunnicliff's Tavern
and just 2 blocks from venerable, old
Eastern Market
.
Although I lived in this neighborhood during what
could
have been a real low point in my life, sorting through the train-wreck of my post-divorce life, I wasn't miserable. While living there my love for Washington, DC deepened. My love for urban living blossomed. I started to grow.
My apartment was a short walk from the Eastern Market Metro (subway) station, which I rode to and from work
(and the gym, which was my main entertainment, since I was pretty much broke... but in great shape)
.
Eventually, things started to turn for me. I was promoted twice, and having a little more money allowed me to I start taking a bit more joy from my surroundings. Fastpitch and I would make day trips every other weekend, to the National Zoo, or the ride the carousel on the National Mall, or ride the metro out to Pentagon City mall.
The best thing that happened to me during this period, though, was that I met and successfully wooed, the person who would become Mrs Gunfighter.
I left that neighborhood when we got married, in 1994, and headed for the Virginia suburbs. In the intervening years, I went to work for a different agency and work in the Virginia 'burbs, I still have to go into the city from time to time, and when I do, I always drive through the old neighborhood.
It makes me happy.