First things first, my friends: Many heartfelt thanks to for your prayers/well-wishes. It meant/means a lot to me.
Shall I bore you about my surgery now?
I was fortunate enough to be the first patient on the roster at the local surgical center... which is only about three miles from our house, by the way. Being first meant that I had to be there no later than 6 a.m., which is no big deal as I am usually at work by 5:30, right? The difference on this fine morning was that Mrs GF and Soccergirl were with me so they could drop me off. The plan was that Mrs GF would go back home with Soccergirl, get her ready, and take her to school and then return to the surgical center.
Once I got in the doors, the receptionist checked me in moments... and noted that I had my crutches with me. We had a brief conversation about the weather, and what it was like to live on St. Simons Island, Georgia... as it turns out, she and her husband lived very near where my family stays when we visit the island.
A very few minutes later, Rachel, my nurse, collected me from the lobby and took me to the pre-op room, where I got my laces-in-the-back surgical gown. Once I did that, she collected my clothes and left me, with the TV news on. All the news was about 9/11, and truthfully, I wasn't interested in depressing news when I was about to go into surgery.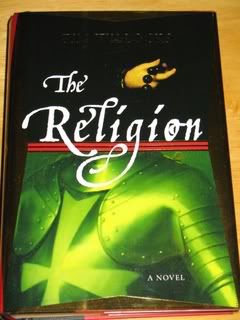 Since I anticipated some waiting, I took out the novel that I had broguht with me. The book is titled
"The Religion"
, by Tom Willocks. The story is about the invasion of Malta, by Suleiman The Magnificent, in order to rid the island of the Knights of St. John, also known as the Knights Hospitaller, or the Knights of Malta. One hundred and eighty pages into it, I am enjoying it.
So, I take out my book and start reading... ten minutes later, and ancient chap comes into the room to prepare me for anesthesia. His name was Dr. Thomas. He set up my IV port while talking incessantly. Nurse Ratched, er... Rachel came back in to ask me more of the same questions that she had asked earlier and then gave me a pill "to relax you" for the anesthetist. I asked her what the pill was... it turned out to be
Oxycontin
... that stuff you hear about so much in the news.
Once Rachel and Dr. Thomas were done, in comes Dr. Andriotti, a very handsome woman of about 50. She is the anesthetist, and she and Nurse
Ratched
Rachel are going to wheel me into the operating room... but before we get there, she says:
"I hear that you are a police officer, is that right?"
I said that it was. She then asked if it bothered me that I was being wheeled around and being told what to do by women. I said that it wasn't a problem. She laughed and told me that cops tend to make bad patients because they don't like being told what to do. I told her that speaking just for me, I didn't have a problem bowing to her knowledge in her field...
"just don't try to tell me anything about my guns, deal?"
We had a brief laugh, before they stuck the mask over my face.
Oblivion.
"Hey! How did I get back in here?",
I thought when I woke up in the post-op room. There was Rachel, my newest and bestest pal, who told me that I was all done.
It was ten minutes past eight.
"Is your wife here?"
Rachael asked. I told her that I had been sleeping so I didn't know. I then told her that she should be here shortly, as Soccergirl couldn't go into the school until 8:20. Moments later, Mrs GF arrived and we were headed home by 9.
My dear ladies took good care of me yesterday, and I was feeling fine. Of course, I had completely forgotten that I still had the anesthesia in me... which caused me to vomit powerfully after I ate my lunch. That was fun.
The rest of the day was spent just bumping around the house and napping.
I was aided by my youngest nurse, nurse soccergirl, by having several of her favorite stuffed friends tucked into bed with me.
I tried eating dinner around 6 p.m. a spoon full of rice and peas... which made me puke again.
Damn.
It was a long night... especially after all of the drugs wore off.
Today, the pain is real... but no matter, I will be better for this. In a few weeks, I can start working out again, and shed some of this poundage.
GF
Check out the surgical, anti-blood clot stockings! Sexy, right?