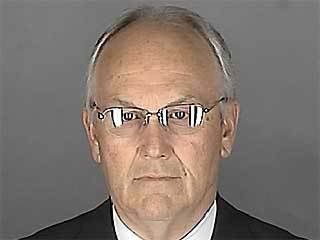 Dear Senator Craig,
I am not a constituent of yours, but I am a patriotic American who cares deeply about our nation, it's institutions, and our form of government.
Let me get right to the core of the apple, Senator. I don't really care about your sexual orientation. Your homosexuality is wht it is, and that is completely your own
affair.
My problems, sir, stem from the fact that according to the police report, you attempted to engage in a lewd act in a public restroom, and that you attempted to use your position as a United States Senator to influence or interfere with a police investigation. I can tell you sir, that as a law enforcement officer, I am saddened, offended, and disgusted.
As a Senator who claims to care about Conservative values, and claims to care about supporting the law, your activities to the contrary are considerably demoralizing to me, and to many of my colleagues.
What is it with you people, anyway? Do you live in some sort of bizzaro world where it only counts if you get
CAUGHT
doing something wrong?
Gay or not, Senator, trying to score a piece of ass in an airport public restroom, is disgusting. What the fuck is wrong with you? How is anyone supposed to trust you now?
You are a criminal. A convicted criminal. Worse, you are a pervert. You are unfit to serve this country, and your state in the Senate.
Do the right thing, Senator Craig: Resign.
Resign. Save your dignity, repair whatever relationships that were damaged by this shabby and unsavory incident, and get on with your life. Leave your office to someone who can actually earn the respect of people of Idaho and the united States.
Resign, before your activities and subsequent lies cause further damage to the public trust.