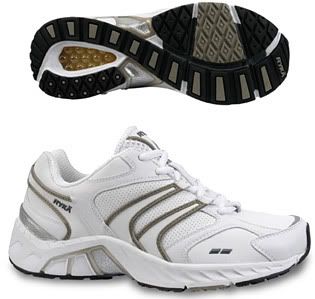 First things first, in the spirit of full disclosure, I have to tell all of you that I didn't wear these shoes. No, not because I didn't have time or because I was slacking in my product review work-rate. No, I didn't wear these shoes because I am a man.
These shoes are for the ladies. Especially for the ladies.
I suppose I
could
try to BS about them, but, really, what would be the point? That's not how I roll.
Having said all of that, I will say that my lovely wife, known in the blogosphere as Mrs Gunfighter (or as she SHOULD be known,
Dr.
Mrs. Gunfighter) DID wear them. Not only did she wear them during a period of day to day activities, she wore them while were were on vacation... at
Disney World
. Uh huh!
According to Mrs GF, the most immediately remarkable thing about these shoes is that they were comfortable instantly, they needed no real break-in period.
The shoes never gave her a blister nor did they cause any pain, even after two weeks of walking through the Magic Kingdom, EPCOT, Animal Kingdom, Disney's MGM Studio, and all of the other places, including SeaWorld, that we went during the trial period.
Another notable thing about these shoes is that they aren't ugly. These shoes look like any other high-end athletic shoe that is made for serious athletes (and walkers
ARE
serious athletes, OK?). I am sure you all have gone to sporting goods stores and seen what are passed off as "walking" shoes, when in reality the shoes look more like they were made for the nice old folks at the Shady Tree rest home.
All in all, these shoes performed flawlessly over the two-week test period.
Mrs Gunfighter gives full marks!
Ryka products and their descriptions can be found at their website:
www.ryka.com
This product Review is brought to you by the
Parent Blogging Network.
Please note that my next product review will be located at:
The Review From Here
, my newly minted blog where I keep all of my product and book reviews together.