"…And if you aren't careful, you might learn something along the way"

Do any of you remember that last line from the introduction from the 1970's cartoon; "Fat Albert and The Cosby Kids"? Bill Cosby, the producer of this cartoon believed that kids could be entertained, and taught lessons at the same time. I happen to agree with this, and things happen in my life with enough regularity to constantly reminded of it.

For instance, the last day of our spring break getaway to Williamsburg, Virginia, we went back to the Colonial area for one last visit before making the two hour drive back home. The first place that we stopped was the home of Mr Benjamin Powell, who was a home builder in Williamsburg, circa 1763-1783. The original structure is still standing and has been restored to the original condition to the point that the original floorboards are still in place (and they don't squeak!).

Upon entering the house, a historical interpreter in period costume, told us about the house, and the things going on there, and about the business of Mr Powell. One of the first things that you notice about Mr Powell's house is that it is easily one of the largest houses in the town. You see, in those days, unless you were one of the gentry, you probably lived in a house that had two rooms, one of which was the kitchen. If you were of the middling sort, especially if you were a farmer, you may have had two rooms in addition to the kitchen. Mr Powell was neither gentry nor farmer, nor planter. He built houses. Seeing Powell's house was a present day reminder that even back then, people who were in the building trades ALWAYS did well (probably because he was using some of the paid for materials on his own house).

To the point... while Mrs Gunfighter and I were talking to the interpreter, Soccer Girl and some other kids were playing a period board game in the other room. She was having a great time, so Mrs G and I went to the kitchen to see what the cook was making. Among the many things he was cooking in the large, open, brick oven was a fragrant onion soup. He took note of my interest and gave me the recipe, which is original to about 1759.

I am making that recipe today.

As with any recipe, I have added some things that I think would either improve the recipe or at least ad some things that I believe that I would enjoy.

Shown below are most of the ingredients that I started with.

Ten medium onions
A bottle of cream sherry
A six-pack of Woodchuck Cider
Some chopped garlic and sun-dried tomatoes
Two egg yolks
A half teaspoon of flour
4 slices of bacon
A stick of butter
A quart of water
1/2 teaspoon of vinegar
Salt, pepper, etc… to taste.




Find a CD. Something cheerful and peppy. Something that might even make you dance while you cook. Music chases the blues away, you know. It aids in having a positive cooking (and blogging) experience (did I mention that I am blogging about this in real time? I'm so pathetic).

What am I listening to? Some Workout Music from The 80's CD that we bought at Target.

Chop the onions fairly small, but no need to mince.




Fry the bacon in the Dutch Oven

Melt the butter… the whole stick, in the dutch oven.

Add the onions… stir from time to time. Open a bottle of the chilled cider, and pour yourself a glass.

Fry (as opposed to saute. This is a recipe from the colonial era, friends, we weren't sauteing in those days!) the onions for about 15-20 min, depending on the doneness of the onions.




Add the garlic/sun-dried tomatoes




Add the flour




Add the water, and bring to a low boil, reduce to a cheerful simmer.

Have another cider (or sherry), if it strikes your fancy. Turn up the music and find your kids/spouse/partner and seriously rock out. If you have a girly-girl daughter, then dance with her, and make sure that you dip her. Dipping is important to at least one eight year old that I know.

Continue to simmer for about 10 minutes… the soup, not you!




Divide the yolk from two eggs, and add them to a small mixing bowl.




Add the vinegar to the yolks, whisk until smooth. Add to the simmering soup.

Simmer another 10 minutes.

Adjust seasoning.

Done!

Garnish with some crumbled cheese, if you like.. I used blue cheese, but your mileage may vary.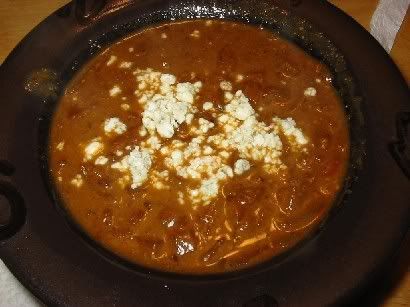 If you have some crusty bread, you can spread some of the garlic/sun-dried tomato on the slices and lightly toast/broil.

As an accompaniment, I tossed some thin spaghetti with some pesto sauce from a jar.

All was served with some inexpensive, screw-top Chianti. (don't laugh. I'm a peasant. I like good food, but expensive wine is wasted on me. I have a cheap palette, which makes me a fairly cheap date… so I've got that going for me, which is nice).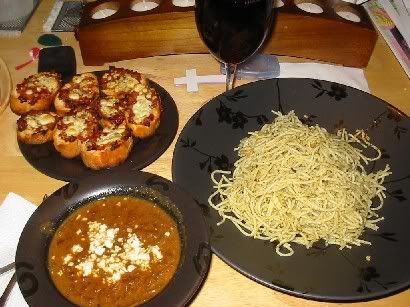 Tonight's dinner music is Andrea Boccelli's "Romanza" CD. It's too bad Mrs G is sick (she has a bad cold). If she weren't I might score after a meal like this. As it stands, I'll have to settle for watching the Auckland Blues (from New Zealand), play the Johannesburg Cheetahs (from South Africa) in a rugby match that I recorded yesterday.

Sooo good!