By now, most of you will have heard about the recent terminations of many (8) U.S. Attorney's by the Attorney General of The United States, Alberto Gonzales. No doubt you have heard about all of the controversy that has been generated.

As a result of the irregularities surrounding the dismissals, the Senate Judiciary Committee wanted the persons involved, including Karl Rove...




Harriet Miers...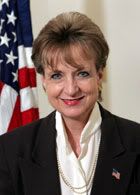 and Attorney General Gonzales...




to testify before the Senate Judiciary Committee.

The White House fought tooth and nail, citing executive privilege, to keep White House staff members from having to testify under oath. Hmm. Am I the only person that has a problem with this?

Let's look at it this way: How well do you think it would go over when I make an arrest and then tell the judge, "Your honor, I'm happy to testify in this case, but I won't do it under oath, and I won't do it with a court reporter present, and only if you agree not to tell the public"? How do you think it would go from there? Not well, I can assure you... but this is what the White House wants. The President doesn't want his staff compelled to tell the truth.

Something is wrong with that, my friends.

We shouldn't be surprised, though. The President is a bloody liar, himself, and has surropunded himself with like-minded people.

Eventually the testimony conditions (after some compromising) were agreed to by all parties, and AG Gonzales was compelled to testify, under oath, with a court reporter, and on television. Before his testimony, however, Mr. Gonzales had several weeks of rehearsal and preparation time for his hearing, even cancelling his scheduled vacation around Easter, in order to have more time to prepare.

**News Flash** YOU DON'T NEED TWO WEEKS OF PREPARATION TO TELL THE BLOODY TRUTH!

On the day of his testimony AG Gonzales used the term "I don't recall" or words to that effect at least 45 times.

45 times.

This man is the Attorney General of the United States, as such he is the chief law enforcement officer in the United States. He is supposed to be the guy in charge of enforcing our laws. This is a man who was once the Chief Justice of the Texas Supreme Court... he should know a bit about the law, and about testimony. Saying "I don't recall" so many times while on the witness stand must make anyone hearing this, question the man's integrity or fitness to testify.

According to documents that surfaced through this investigation, AG Gonzales has attended meetings (which he earlier claimed he didn't attend), and detailed briefings (which he claims not to remember) on terminating the employment of 8 U.S. Attorneys. He doesn't remember any of it? He doesn't remember signing documents? His staff is making these decisions for him and he isn't even consulted? Is the Attorney General suffering from Alzheimer's?

I'm sorry, Mr. Gonzales, or "Gonzo" as President Bush calls him, but this isn't good enough.

Either you fired those people for political reasons in some sort of partisan shaking of the law enforcement tree, in which case you should resign, or the Department of Justice is completely out of control because of your incompetence, in which case you should be fired. In either case, you should leave office.

Regular rank and file cops can lose their jobs even at the hint of impropriety. This is because you can't hold a position of public trust if you are a liar, a thief, or someone who when under oath, is prone to dissemble.

You, sir, are a sleazeball. I wouldn't trust you, or any of your lickspittle coterie of thugs, liars, wingnuts, and Regent University graduates, to guard the most rancid whorehouse in Olongapo.

You disgust me.... but this is what we get from people that think torture is alright, as long as you don't call it torture, and the Geneva convention on the treatment of Prisoners of War is irrelevant as long as you call them "detainees".