I started typing this around 5:30 this morning. I started and then I stopped. I edited and deleted. I had so many things to say about the President's speech last night, that it was all pouring out in a tortured jumble.

I knew that this speech was going to be special, and I expected to be spitting mad when it was over… but all I felt was sick.

I'm not going to scream or hurl invective today. I can't. I told a friend & fellow blogger, yesterday, that I was going to do this without swearing, and I shall. Having said that, I offer the following remarks.

First, I have to say that Mr. Bush looked somewhat more subdued lat night...




...than he did in May of 2003...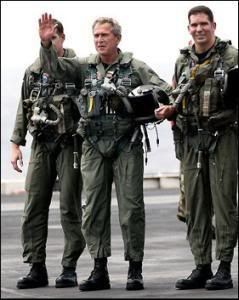 ...when he announced: "Mission Accomplished"




Mr. Bush, staying true to form, started his speech with this line:

"Good evening. Tonight in Iraq, the armed forces of the United States are engaged in a struggle that will determine the direction of the global war on terror – and our safety here at home"

Of course, this is a load of crap, but, I won't go any further in parsing the President's speech, because various media outlets started doing that seconds after he stopped speaking.

All I can say about this speech is that it is stunningly clear to me that George W. Bush is operating in a world of his own, and is out of touch with reality, if he believes that increasing troop levels by 15 percent is going to be the key to "victory" in this insurgency.

I believe that Mr. Bush's "change in strategy" will do no more than escalate and prolong this war and leave, whomever follows him in the Presidency, holding the bag.

There you have it... the President of The United States is going to buy himself out of failure by spending the lives of our soldiers.

In his mind, his legacy will be one of stout resolution in the face of danger, even when everything was going worng. He will have been a "war President" who was tough. Of course, history won't record it that way, but his devout followers, all 13 of them, will believe it, and all it will cost is this:




Just so that George W. Bush can save face.




For shame.